We teach 21st century students, we are from 20th century teachers, we teach in 19th century school and in 18th century classroom design.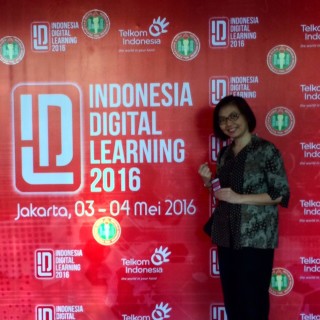 I joined seminar held by PT Telkom Indonesia, "Indonesia Digital Learning 2016" at hotel JS Luwansa, Kuningan, Jakarta.
I was pretty excited with this chance. I went there with idea to meet, to learn and relearn. To meet and greet my colleagues from many school around Jakarta. Lucky me, I met several teachers from outside Jakarta and Java. And also met my "online" colleagues from the blog that we join and follow.
Seminar was held for two days. The key speaker was Prof. Richardus Eko Indrajit. With all materials can be downloaded from IndonesiaDigitalLearning.com website, Prof. Eko still conveyed his speech so interesting. He did very well, for "not a new thing anymore" , which means not over information about 21st century learning skills. I believe, we need to be reminded as teachers, but not too over as now we almost past 20 years of our 21st century 😄.
Teaching with technology is not only teaching use gadgets as tools. Some people still need to shift the paradigm about it. Tools for teaching doesn't make you as the teachers who applies technologies in 21st century learning, only some parts of it.
The most important thing is how you handle situation in your teaching and learning environments. You use handy, cool, and powerful gadgets, but you still tell your students that they can not use those stuff or even calculator to help them calculate in class, means you totally misunderstanding and misinterpretation the idea of technology itself.
Back to the event, I saw bunch of teachers in different necessities, those who really want to learn new things, the other one who want to share, some want to be reminded the idea of technology in education (like me, probably 🙂 ). With many reasons, we were there and tried to do as the best as we could to involve in education, where ever we are.
__________________________________________________________________________
IDL is one of CSR program from PT Telkom Indonesia for Improving Indonesian Education. It is amazing. Our education really need to be supported from many aspects. They also encourage teachers from all over Indonesia to involve with the improvement of the education itself.
The IDL program is to increase teachers's competences in ICT for teaching and learning process.
One of the encouragement given is competition. Yeaaahh most people like competition, they like to compete to others. And the title for the winners is A HERO :).  For me, personally, it is kinda weird terms. You compete to be a winner, not to be a hero.
To be chosen as 45 finalists from hundreds (almost a thousand) teachers, will be a proud for teachers mostly. It's natural feeling, isn't it? How can you be in the 45 teachers and in few days, will come up with 8 heroes? What is the consideration from the Jury? Is it fair enough? Is the chance really for everyone? Are they looking for the real hero from all over school in Indonesia? Or they have concerns on choosing someone to be the brand of "My Teacher My Hero"? Pro and Cons come from this event.
Talking to myself, if they want to find the real Hero, they should spread the chance widely. If only given to some people and same people, their program does not work in well.
Jakarta, May 2016